Two days could not be more different! (I guess they could, but it was a better start to the piece if I practice a bit of exaggeration. )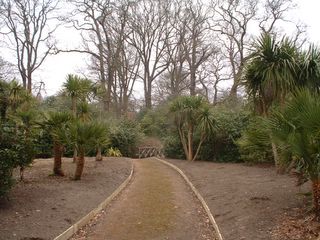 A Tropical Path in the Woodland Gardens
The day dawned a bit cold and overcast. Not actually cold enough to want to wear a jacket, but cold enough to want to wear a sweatshirt as I took my morning walk. The overcast does have its advantages, though. It is perfec lighting for some portraiture. Of course, my portraits will be of the flora in the gardens, but still...
Today I visited a secret of the people in the know. A hidden treasure right in the middle of Surrey! Last night at the pub, one of my acquaintances suggested that I go to the Woodland Gardens in Bushy Park. The hotel I am staying in (at least the main building of it) backs onto Bushy Park. The Mews (where my room is) actually backs onto The Wilderness.
He gave me directions and suggested that I go early (before the crowds… not that it was ever really crowded.) So right after breakfast this morning, I grabbed my cameras and headed over to the park and sought-out the woodland gardens. What a find!
There are lovely wooded paths that wind through woodlands under planted with daffodils; gnarled and knotted trees that remind me of mangroves (although they are not growing in knee-deep water) and the biggest surprise of all, a walk through what is essentially, a tropical garden. Be sure to follow the link and see all the pictures from this lovely corner of Surrey!
I took pictures of the Palmettos and Spanish Bayonets, the Azaleas, and the Primroses. There are also animals; ducks, foxes, pheasants, and swans. I hope you can enjoy the pictures and get a feeling of the gardens. But, let's keep this a secret! I would hate to have everyone know about this place. It would ruin it to be packed.
I hope you have a wonderful day wherever you are!
Don Bergquist – 20-March-2005 – Thames Ditton, United Kingdom